Adama Dembele – Djembe player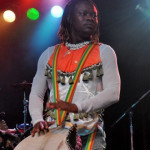 Adama Dembele is a master djembéfola (djembe player) from Ivory Coast, West Africa. Born into a family of musicians, he has toured several continents with various major acts such Oumou Sangare, Salif Keita, Affou Keita, Sogona Djata and many others. Adama has played in several drum and dance companies such as Yelemba d'Abidjan, Ensemble Koteba, Congoba and many more.
Aside from teaching, Adama also shares his music through performance. His current project is called Zansa, which means a mix or blend. The group plays original afropop and afrobeat music inspired by rhythms and songs of the Ivory Coast. Adama was also a part of afrobeat ensemble Afromotive and is a frequent guest of afro-surf-rock outfit Toubab Krewe.