Ben's Place Genealogy Museum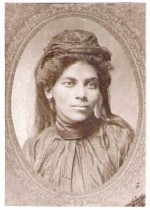 Ben's Place Genealogy Museum
Ben's Place is a showcase of the family history of Sandy Garcia. Her ancestors kept an amazing collection of photos, articles, ephemera, and artifacts of their history, and Ms. Garcia has put it all on display for the public to enjoy and learn from. She is a warm and engaging, ready to share the stories behind the names and places, and I'm sure you will come away from visiting Ben's Place feeling inspired to explore your own family!
Learn more about Ben's Place here
Sandy Garcia taught at the University of South Florida in Tampa for thirty-four years.   She retired as emeritus professor in 2006 and moved to Asheville, which she loves. She can be reached at the genealogy museum, Ben's Place, 121 Shadowbrook Dr., 28805, (828) 505-1855, or (813) 857-3910, and sjagarcia@cs.com.