M.S. Lean Landscaping, LLC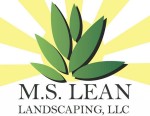 Specializing in:
Organic Chemical Treatment & Fertilization
Lawn maintenance
Landscape Design
Trimming and Pruning
Cultivation
Lawn Fertilization
Small Tree and Leaf Removal
Edging
Composting
Lawn Aeration
Mulching
Weed removal
and more!
REACH: Recognizing Expectations And Cultivating Hope
MSLean was created in honor of my grandmother who dedicated her life to serving, loving, and caring for her community.